Social media has become the largest country we live in today with many  multi-cultured citizens estimated to be about 2 billion who are actively interacting with each other, especially the millennials. What is even more interesting about social media is the possibility to get a lot of audience and quickly disseminate your message in a fleeting second without having to pay for any media coverage. And yes, it is governed by only very few flexible rules such that people can say whatever they want without any time and geographic restrictions. It has become the warehouse of emotions where people can share their happiness, sadness, frustration and anger and in turn have other members react to them. Individuals, businesses, government institutions, politicians and world leaders all meet and interact on social media. The power of social media in influencing everything in this world cannot be overemphasized.
In the recent U.S. presidential elections, social media played a critical role in disseminating both good and bad information to the electorate. Donald Trump and Hillary Clinton reached out to their respective supporters through various social media channels and often exchanged 'insults' on twitter. Social media does not only serve as a major source of information but a powerhouse where one can witness all sorts of controlled and uncontrolled reactions. While Trump unequivocally showed his disdain for main stream media, his campaign team launched a daily night show on Facebook where he boasted of using '21st century technology and communication' effectively. Trump even said Facebook and Twitter 'helped him win'. Clinton also used Facebook to carry her campaign agenda across. Even after the election, anti-Trump activists are still using social media to carry out their agenda and even trying to secure the required support to influence the Electoral College's decision to prevent Trump from going to the White House.
The big question for us at Wave-2 Analytics is: Can this social media gimmick work for Nana Akuffo-Addo and John Dramani Mahama as well? Let's start with some facts.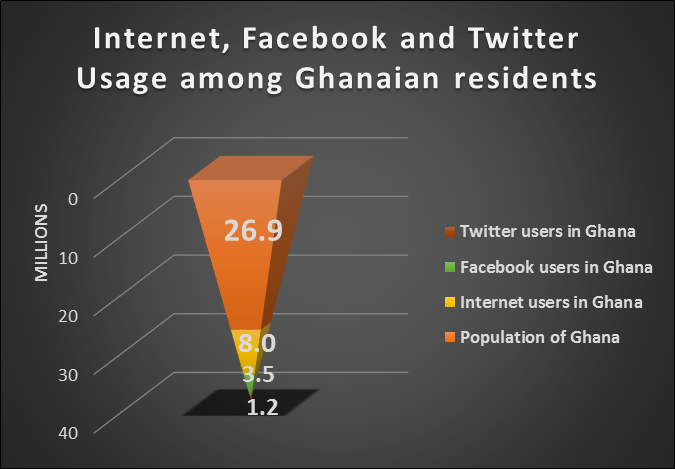 Figure 1: Internet, Facebook, and Twitter Usage among Ghanaian Residents
Source:  www.internetwoldstats.com & Wave-2 Analytics Proprietary Social Media Research
From Figure 1 above, it is obvious that internet and social media penetration in Ghana is relatively low. Although there are close to an estimated 3.5 million Ghanaian residents on Facebook and about 1.2 million on twitter, this represents only 13% and 4% of Ghanaian residents respectively with about 33% of the registered voters having access to the internet. In the United States, about 85% of the registered voters have internet access with over 60% of them on Facebook and Twitter. Clearly, one can safely assume that the impact of social media on election results will be smaller in Ghana than in the United States. Additionally, the demographic composition as well as the economic disparity between these two countries will not warrant an apple-to-apple comparison. Nevertheless, it is important to realize that there are over 3 million Ghanaians are actively on Facebook and over 1 million are on Twitter, mostly skewed towards a more educated and younger generation who are actively selling their points of view to the remaining population that may not be privy to the social media action. It is therefore imperative to suppose that social media could have significant impact on the Ghanaian election results.
How about the major party candidates themselves? How engaging are they on social media? Wave-2 Analytics conducted some social media analytics with results discussed below.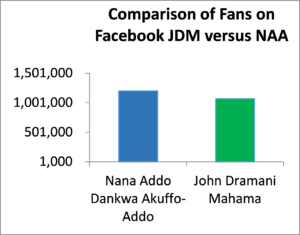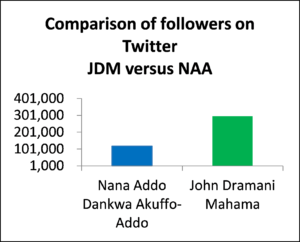 Figure 2: Comparison of Fans of John Dramani Mahama (JDM) and Nana Akuffo-Addo (NAA)     Source: Wave-2 Analytics Proprietary Social Media Research
As shown by the charts in Figure 2 above, both candidates have significant presence on social media (that is, Facebook and Twitter). While the number of fans on Facebook are almost at par, John Mahama seems to have significantly more followers on Twitter than Akufo-Addo.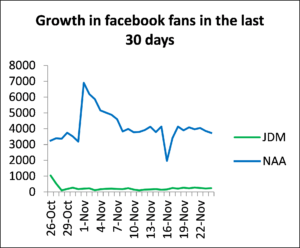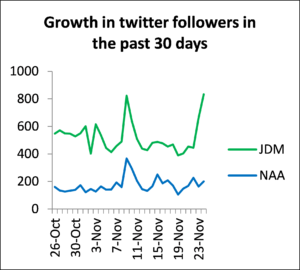 Figure 3: Growth in Fans on Facebook & Twitter for John Dramani Mahama (JDM) and Nana Akuffo-Addo (NAA)
Source: Wave-2 Analytics Proprietary Social Media Research
In the past 30 days, Akufo-Addo had a much higher increase in his Facebook fans relative to Mahama but the rate of change seems to be stable for  Mahama whiles slowing down on average  for Akufo-Addo (see Figure 3 above). The situation is reversed on Twitter where Mahama leads in terms of the growth in followers.
In terms of engagement and interaction with fans, Akufo-Addo is taking the lead on both Facebook and Twitter as shown in Figure 4 below.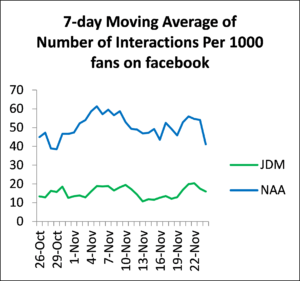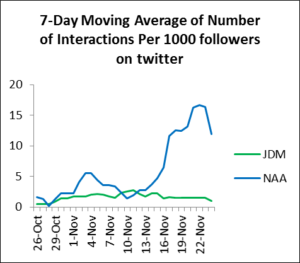 Figure 4: Interaction with Social Media fans by John Dramani Mahama (JDM) and Nana Akuffo-Addo (NAA)
Source: Wave-2 Analytics Proprietary Social Media Research
From the above insights, one can confidently conclude that the potential impact of social media on the Ghanaian election is on the rise. Social media can be leveraged by the various campaign teams to carry their message across very quickly, particularly in the form of pictures and videos.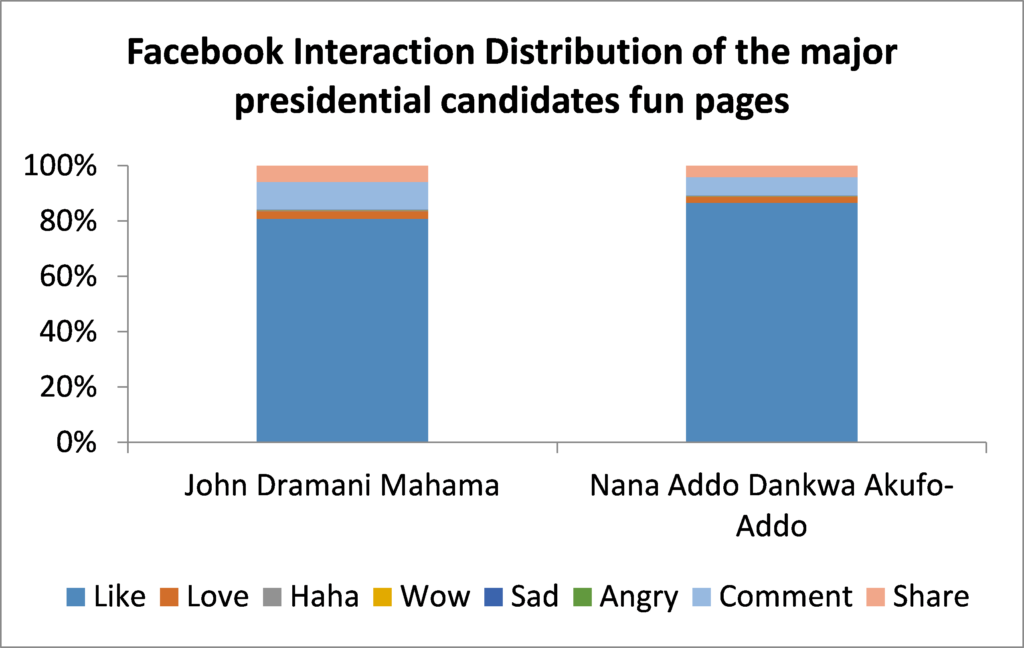 Figure 5: Interaction on Facebook fun pages for John Dramani Mahama (JDM) and Nana Akuffo-Addo (NAA)
Source: Wave-2 Analytics Proprietary Social Media Research
The distribution of the social media posts shows an overall positive sentiment for both candidates; this is not unexpected since the analysis is based on their own fan page activities. It is important to note that while Akufo-Addo has a relatively bigger proportion of likes than Mahama, most of Mahama fans make extra efforts in re-sharing their posts than Akufo-Addo's fans and this may be a sign of greater enthusiasm among the NDC supporters.
Beyond the interaction of the major party candidates with their fans on Facebook and Twitter, there are several Twitter handles and Facebook pages promoting interactions and discussions around the upcoming elections with the most notable one being the #Ghelections which is linked to Citi FM. Wave-2 Analytics reviewed the content and followers of #Ghelections and found over 400,000 unique followers with more than a thousand interactions per day regarding the upcoming elections. There has been about 730 average increase in followers per day for #Ghelections, another indication that social media is becoming an important platform in discussing election issues and a confirmation of it's potential to influence the election results.
Other twitter pages that promote discussions around the upcoming elections include @ghanaelections, @ghanadecides, @IEAGhana and many others.  In fact, a simple search for Ghelections on Facebook will return over a 100,000 related posts.
The potential influence of social media on election-related discussions is not complete without mentioning the contribution of WhatsApp. With mobile penetration rising to about 130% in Ghana (yes, there are more mobile phones than people in Ghana!) and close to half of these mobile phones being smart phones, WhatsApp is fast becoming the leader in sharing any kind of information and election-related information. Several WhatsApp groups bring people together and knowing that people get on their phones more than once in every hour on average, one can be assured of the power of WhatsApp in carrying election information, particularly in the form of videos and pictures. 
The dark side of social media and our advice on how to manage social media information during the 2016 election season to promote peace
Though social media is increasingly becoming influential in every aspect of our society, it is important to understand its dark side. False information sharing on social media is also on the rise. Think about it. You don't need to provide any proof or go through any identity verification before posting anything on social media. In fact you can have 100 Facebook accounts with 100 emails if you choose to. You can cook false news in your kitchen and serve it on social media to be consumed and of course you will find people who will eat it and share it with others within a very short time. People are generally not responsible or held accountable for the things they post on social media or more generally on the internet. There are also hackers who compromise people's social media accounts and dubiously distribute information. With all that being said, we encourage all Ghanaians to be vigilant on social media and cognizant of the information they choose to consume and share within their networks.
Social media is a double-edge sword. It can be used positively to communicate ideas and other great election-related information but it can also be used to incite violence and fear among the electorate in Ghana by irresponsible users who do not want to see Ghana conduct another round of elections. For instance, Wave-2 Analytics research has already seen some party activists and Electoral Commissioner haters who are posting false information with great potential to incite violence! Let us not be oblivious of those bad nuts! Beware and use social media responsibly to ensure a peaceful election in Ghana!
Long live Ghana!